The Millennium Wave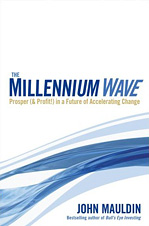 "A forward-looking guide to the changes that will impact the investment environment…"
In John Mauldin's book, The Millennium Wave, Mauldin explains how we are entering a decade where change will come faster and be more profound than at any time in history, and gives investors the strategies necessary to profit from what he predicts will happen.
Preorder from Amazon.com and save!
Mauldin reviews briefly the waves of agricultural, industrial and the electronic data and communication revolutions of the past as brought forth in Alvin Toffler's groundbreaking book, The Third Wave.
He contends that this time something is different. Instead of one wave of innovation following another, he believes that we are going to see multiple waves of significant change and innovation surge all over the world at roughly the same time.
He describes the "millennium wave" as a combination of those multiple innovation waves (the information, biotech, quantum, and energy waves) coupled with profound societal changes (demographics, the increase in globalization, and significant geopolitical changes).
He contends that all these events or "waves" that will occur in such a short period of time will create one of the greatest investment opportunities ever seen–as whole new companies and processes are created.
On the one hand, the "millennium wave" will be seen as a source of good, as we will live healthier and longer and there will be more of the basic necessities of life and more life options. On the other hand, the very ground we walk on will seem like it is shifting. The roadmap we have in our mind for our future will require a constant fine-tuning (if not major re-programming) in order to determine our position.
The Millennium Wave prepares investors for these seismic technological and societal shifts, and reveals how nimbleness and an ability to make decisions–rather than passively investing in indexes–will help investors take full advantage of these upcoming changes. Filled with in-depth insight and practical advice, The Millennium Wave will show investors how they can benefit from the single largest period of transformation in human history.