$100 Oil is the Solution
April 1, 2005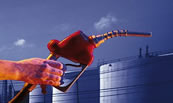 The $100 Solution
Venezuelan Madman and Other Problems
It's a Very Demanding World
The Demand for Infrastructure
London, Majorca and Regulatory Exams
How can we go from oil priced in the low teens only a few years ago to oil now holding steady in the mid-50s? This week we have seen a projected price spike of $105 from Goldman Sachs. Can you say $4 a gallon gasoline, boys and girls? $100 to fill up the tank of your SUV? This week we look at the price of oil and why $100 oil is the solution and not the problem.
Since I'm writing this on April 1, I was tempted to start out the letter as an April Fools joke. My topic would have been why the Dow is going to 36,000, but then I realized that James Glassman and Kevin Hassett wrote about that over five years ago in their book "Dow 36,000." So I guess we'll stick with $100 oil.
But first a quick housekeeping note. I've always sent this letter to you in text format. It used to be that more people could receive an e-mail in text format than HTML. I'm not certain that is the case today. I would like to be able to include charts and graphs, and to do so would mean that I would need to be able to send the letter in HTML format.
Next…
To continue reading, subscribe for free.
---
Or login below.