2006 Mid-Year Forecast
June 23, 2006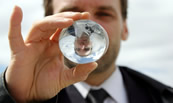 Mid-Year Forecast 2006
A Few Good Calls
A Slowing Economy Is Not The Issue
R.I.P, The Yen Carry Trade
Information on Gold Stocks
Vancouver, Atlanta, La Jolla
A Personal Intervention
This week we will venture into the always hazardous area of making my semi-annual forecast. I make some non-consensus projections as to the economic climate for the next six months, and of course look at Fed policy. We will also quickly review my beginning of the year (2006) forecast and see what changes should be made. I also point you to a solid resource on gold and gold stocks at the end of the letter. It will be a very interesting letter, I think.
But first, a quick note on today's reversal by the District of Columbia Court of Appeals on the SEC requirement for hedge funds to register. If you read the brief 19 page ruling, it is clear that the Court did not buy into the argument of the SEC about the meaning of the word client, which was the legal basis for the SEC to require hedge funds to register. While I am neither a lawyer nor the son of a lawyer, it appears to me that they did not offer any other suggestions for the SEC to take another tack in their effort to regulate hedge funds. It will be interesting to see if the SEC tries to appeal what the court felt was such a clear cut case.
That should put it back where it should have been three years ago, squarely in the lap of Congress. Congress needs to re-visit the whole body of rules surrounding hedge funds. They were written in a bygone era when hedge funds did not exist, and have forced what is now a significant portion of the investment world into participating in unnatural business practices in an effort to remain legal in the US.
…
To continue reading, subscribe for free.
---
Or login below.