2010 Forecast: The Year of Uncertainty
January 8, 2010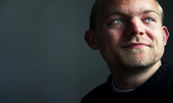 2010: A Year of Uncertainty
"Rocking Even Me"
Prisoners of Our Preconceptions
The Statistical Recovery
The Great Experiment
Whither the Fed?
London, Monte Carlo, Zurich, and Stocks
"Lying here, during all this time after my own small fall, it has become my conviction that things mean pretty much what we want them to mean. We'll pluck significance from the least consequential happenstance if it suits us and happily ignore the most flagrantly obvious symmetry between separate aspects of our lives if it threatens some cherished prejudice or cosily comforting belief; we are blindest to precisely whatever might be most illuminating."
-- from Transition, by Iain M. Banks
Still a man hears what he wants to hear
And disregards the rest
-- The Boxer, by Paul Simon
This will be my tenth annual forecast issue. Time has flown by, and I enter a new decade of writing Thoughts from the Frontline. And even as I write about the high level of uncertainty of the current times, I am optimistic that at the opening of the next decade we will look back and realize that there has been an enormous amount of progress made. None of us will want to revisit the pleasures of the past ten years in some nostalgic dream. I am so ready for a new decade. And speaking of Paul Simon (above), reading the lyrics of The Boxer, one of my favorite songs from my youth, another few words seemed to hit home:
...Now the years are rolling by me, they are rockin' even me
...I am older than I once was, and younger than I'll be, that's not unusual
...No it isn't strange, after changes upon changes, we are more or less the same
"They Are Rocking Even Me"
At the end of the letter I announce the dates for our annual Strategic Investment Conference, tell you about an important conference I will be attending next month for 9 days (a rather large chunk of time for me!), and drop a hint about why I am going to actually buy some stocks this decade.
For new readers (and a lot of you have joined us this last year), let…
To continue reading, subscribe for free.
---
Or login below.