A Conversation with John
December 4, 2009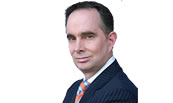 A Conversation with John
Unemployment Positives
New York, London, Monaco, and Zurich
This week I am in New York, and have a whirlwind of meetings (and I admit, a lot of fun on the side) and not much time to write. I have been saving today's letter for a month or so, for a time such as this. Damien Hoffman of the Wall Street Cheat Sheet interviewed me and posted the transcript on his web site. I thought it was one of the better interviews I have done recently, and so it is this week's Thoughts from the Frontline. In addition to the wide-ranging economic questions, he asks for my thoughts on how one becomes an investment writer. I often demur when asked that question (what do I know?), but did my best to answer this time. I think you will enjoy the letter. (By the way, he does a lot of interesting interviews, which he posts for free on his web site at www.wallstcheatsheet.com .)
But first, a quick commercial. Are you reconsidering your investing strategies for the year ahead?
I am pleased to invite you to join me, together with my US investment partner, Jon Sundt, President and CEO of Altegris Investments, for a special live webinar on Thursday, December 17th, at 11:00 am Dallas time (that's 9:00 am on the West Coast and 12:00 noon on the East Coast).
In this special webinar, we will discuss the forces that are shaping today's economy and their influence on financial markets, as well as the potential impact on your investing decisions. This is an excellent opportunity to learn about alternative investment strategies designed to provide noncorrelated diversification for your portfolio, as Jon and his team are experts on alternatives. We'll set aside time to answer your questions.
Due to regulatory issues, this event is limited to US investors who qualify as "accredited investors" (generally, net worth of $1.5 million or more). It's easy to sign up; just allow yourself a few minutes to complete the steps. First, register online on my Accredited Investor website. From there, if you are a US investor, you'll be directed to register for the webinar.
If you have already registered on my Accredited Investor site, please contact your Altegris Account Executive for a streamlined registration process. Space is limited. So even if you can't make it at this specific time, I urge you to register so you can listen to the replay at your convenience after the event. (In this regard I am president and a registered representative of Millennium Wave Securities, LLC, member FINRA.)
…
To continue reading, subscribe for free.
---
Or login below.