A Few Good Money Managers
September 16, 2005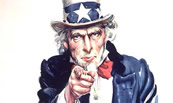 A Few Good Money Managers
Why Investors Fail
Tails You Lose, Heads I Win
The Problem of Ergodicity
Conferences in Toronto, Houston, London, Brussels and New York
This week I let you peek over my shoulder while I try to find some new money managers. Like the old army ad, I am looking for a few good men and women who have figured out some part of the investment world. How does one go about the task of finding and sorting? How can we figure out who deserves to get our money and who we should set aside? It's not as easy as you would think.
But first, a follow-up to my letters of the past few weeks. I think it is looking less and less like the Fed will raise rates at the September 20 meeting, even though recent speeches by Fed governors would suggest they are still thinking that way. The calls from all quarters for a one meeting pause to assess the damage from Katrina are quite loud, and the bond market is certainly indicating they expect the pause.
But it would not surprise me if this was just a one meeting pause. There are worrisome signs, like the proverbial cloud no bigger than a man's hand, that inflationary forces, if left unchecked, could work their way into the economy. I do not believe the Fed will make the mistakes of the 70's and let broad monetary inflation get a toehold in the US economy. Such an unfortunate event would trigger even higher…
To continue reading, subscribe for free.
---
Or login below.