A Player to Be Named Later
December 10, 2011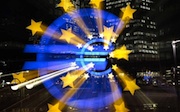 We have come to the end of yet another European Summit that was supposed to be the one to fix the problem. If you are confused as to what happened then you are not alone. Was it something we will look back on in ten years and say, "This was where it all started," or will it be viewed as just another meeting in what will prove to be a string of even more meetings? I will argue that both views are the correct answer, depending on your frame of reference.
But what did come out of the meeting was that some very clear lines were drawn. Will those lines look like the one that Colonel Travis drew with his sword at the Alamo, where those who crossed and joined him knew their fate? Or will it be more like the fabled French Maginot line, thought to be impregnable, which Germany simply went around? Stark comparisons, I know. But then, the choices and sides of the lines you choose to be on offer very stark consequences.
I should acknowledge that I spent a great deal of time the last two days reading and talking with friends from around the world, trying to make sense of the omelet that we were served in Europe. Exactly what is in it? This letter is somewhat speculative on my part, taken from my gathered impressions over the week and informed by my readings over the years. I will use some simple analogies to try and make things clear. And I know that using such simple devices has its limitations, but those are the tools that I have to work with. They will have to suffice. I hope they also inform.
But first, and speaking of conversations, as part of my discussions on Europe I have scheduled two Conversations next week, one with Lacy Hunt and the other with Barry Ritholtz and Jim Bianco. They will be recorded and transcribed as soon as we can, so that subscribers to Conversations with John Mauldin can listen in before the holiday season arrives. Plus those fabulous archives, with Mohamed El-Erian, David Rosenberg, George Friedman (hmm, I need to do another one with him soon – so much is happening!), Richard Yamarone, Gary Shilling, Nouriel Roubini, and many more. You can "eavesdrop" on my earnest chats with my friends about what's on our minds, just like being at the table. And for the holidays, if you use the code CONV when the signup process asks for one, you get $50 off the regular subscription price. You can subscribe (and learn more) at http://www.johnmauldin.com/conversations/landing/. Join us! And now, let's jump right in.
There are two main points to be taken away from this week's meetings. First, the Germans really took control. This has been coming for a long time, and it's not like we haven't discussed it in these letters. Second, Britain either opted out or was shown the door, depending on your point of view. That is the real game-changer, long-term, for more than the obvious reasons. Let's start with what did not happen, which…
To continue reading, subscribe for free.
---
Or login below.