As the Subprime Turns
October 26, 2007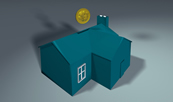 As the Subprime Turns
"The Market for New Homes is Dead"
Mortgage Pig of the Year
When the Going Get Rough, Simply Borrow More
$100 Oil and $1,000 Gold
More Birthdays, Home Again and Deadlines
As the World Turns is a popular soap opera playing on American TV. It focuses, as do most soaps, on the lives and foibles of its characters, with plenty of dramatic flair. We are watching a different type of soap opera today which we could call "As the Subprime Turns. And the world is watching. It has plenty of drama, lots of flawed characters, a plot that is hard to understand, everyone saying it was the other guys fault and the world (literally) paying for the sins of exuberance in the US.
In this week's letter we look at the housing markets, its affect on consumer spending, take a glance at oil and see if we can figure out why the stock market is so excited.
But first, let me re-visit last week's letter where I talked about the $80 billion Super SIV fund that is being created by Citigroup, Bank of American and JP Morgan Chase. A lot of commentators have been writing about what a bad idea it is, and a few have taken me to task. They think it is a bad idea to rescue bad investments. They want the market to clean out the bad stuff so we can start functioning again.
And I agree, but that is not what the fund is going to do, as I understand it. The Super SIV fund is simply offering to buy only the good assets in failed SIVs. In essence, they (and the US Treasury) are worried that there will be a rush to the exits from failing SIVs (mostly in Europe) that will result in a panic forcing down the prices of good assets far below where they…
To continue reading, subscribe for free.
---
Or login below.