As Though It Were Real Money
December 9, 2005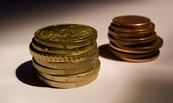 Empire of Debt, Part Two
Americans Get Poorer…
As Though It Were Real Money
Gold at $10,000
Should the Fed Sit On Its Hands?
Home, Narnia and a Little Research Help
"Our analysis leads us to believe that recovery is only sound if it does come from itself. For any revival which is merely due to artificial stimulus leaves part of the work of depression undone and adds, to an undigested remnant of maladjustments, new maladjustments of its own." -- Joseph Schumpeter
How do we interpret the words of Schumpeter? Is the Austrian School of Economics right? Should the Federal Reserve have allowed the US (and thus the world) to go into a deep recession in 2001-02? Did we just postpone a Day of Reckoning only to have one in the future which will be even worse? What about gold? We look at these questions and more as we continue looking at the "debate" between the gentleman from GaveKal and Bill Bonner and Addison Wiggin.
But first, let me note there is still time for you to get copies of my latest book, Just One Thing for your Christmas tree. If you are in the investment business, it makes a great gift for clients. And if you want an autographed copy personalized to you or your friends, I can do that (see below).
"What a brilliant publishing idea! It's a page turner and each contribution is priceless.…
To continue reading, subscribe for free.
---
Or login below.