Be Careful What You Wish For
June 15, 2007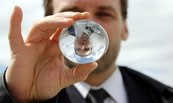 Be Careful What You Wish For
Is It Time for the Yuan to Rise?
A Tough Choice for China
Inflation is in the Eye of the Beholder
Summer Time and the Living is Easy
Be careful for what you wish, because you may get it, and sometimes as H. L. Mencken wrote, you get it good and hard. The collective brain deficit trust, otherwise known as the US Congress, wish for the Chinese to revalue their currency upwards. Today we look at why they may indeed get their wish and why it is not going to produce their desired results. We look at a possible connection between China and the recent and odd volatility in interest rates, connect the dots on inflation and the US economy. How do you explain higher interest rates on government bonds and a slowing economy, but a relentless march to Dow 14,000? It is a lot to cover, so let's jump right in.
Last year, Senators Charles Schumer (D-NY) and Lindsey Graham (R- SC) introduced a bill which would put a 27.5% tariff on Chinese imports. There was not much chance of the bill passing, and given that such a tariff was illegal under World Trade Organization rules, it was clear the Senators were pandering to their various local constituencies. Not that they are not serious about punishing China for have the audacity to sell us cheap goods, while taking our dollars and investing them into US government debt, but their bill was mostly for show.
Be Careful What You Wish For
I wrote at the time that the Chinese would only revalue their currency when they were ready and not one day before. Bluffs and threats from the US Congress do nothing, as the Chinese will do what they want when they want.
This week, however, a more serious bill was introduced, which would require the US Treasury to coordinate with the Federal Reserve and…
To continue reading, subscribe for free.
---
Or login below.