Bull's Eye Investing
April 16, 2004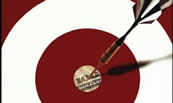 Bull's Eye Investing
Alice in Wonderland Markets
Which Way to Go?
The Focus on Absolute Returns
Field of Dreams
This week, I am going to depart from the regular format, as my book, "Bull's Eye Investing: Targeting Real Returns in a Smoke and Mirrors Market" is in the trucks on the way to a bookstore near you, as well as Amazon.com and Barnes and Noble.com. I have arranged for a nice 30% discount on the book for you courtesy of Barnes and Noble.com, a different and excellent source for bulk orders and I launch a special letter just for readers of my book.
Today, we are going to look at some of the content in the book. Yes, a lot of the book has been in these pages over the last year. But my guess is that at least half of the book is new material, and the 50 plus graphs and charts really add to the usefulness. The chapters on actual investment strategies have not graced this weekly letter and I hope are of great value.…
To continue reading, subscribe for free.
---
Or login below.