Consumers, Credit, and Complications
February 8, 2008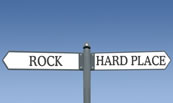 Consumers, Credit, and Complications
Unemployment is Understated
The Credit Crisis is Simply Getting Worse
The Falling Knife of Credit Spreads
Capital Ratios Are Under More and More Pressure
The ISM Services Survey Simply Falls out of Bed
Upgrades, Orlando, and a Proud Dad
The evidence continues to mount that the US is in a recession. In this week's letter, we will look at the blind spot in the unemployment statistics, the continuing meltdown in the credit markets, and the simply awful service sector implosion in the ISM data, and then add a few thoughts on the housing market. There is a lot of data to cover, so this week's letter should be particularly interesting. The letter will print longer than normal, since there are lots of graphs.
But first, we are finalizing the speakers for my annual Strategic Investment Conference (co-hosted with my partners Altegris Investments) in La Jolla April 10-12. I am extremely happy that Greg Weldon has been able to clear his schedule to attend. Long-time readers know that Greg is one of my favorite analysts, with his uncanny ability to tease the most important facts out of the fog of data we are deluged with each week. He has been on top of the whole credit crisis for as long as anyone, and his thoughts on what is coming next will be valuable. Greg joins Paul McCulley of Pimco, Don Coxe of BMO (two of my favorite economists anywhere, and simply brilliant speakers), Rob Arnott, George Friedman of Stratfor, as well as your humble analyst and a dozen hedge fund managers who will show you how they navigate in these troubled waters. By the way, George's new book should be at the conference ahead of the bookstores. He will be writing on how the geopolitical world will change over the coming century. I have read a rough copy, and it is fascinating.
The conference is limited to those with a net worth of over $2,000,000, due to regulatory requirements. I simply hate to put limits like that, but rules are rules. You must register at http://www.accreditedinvestor.ws and subscribe, someone from Altegris Investments will call you (again, a regulatory requirement), and send you the detailed invitation about the 2008 conference, including a link to past and current conference speakers and details.
Unemployment is Understated
For the first time since August of 2003 we had a drop in the employment number. Employment fell 17,000 in January. The BLS also released its benchmark revision with the January report. The year ended with 376,000 fewer jobs than were reported a month ago, and 1.14 million net jobs were created December to December. Downward revisions were spread throughout the year. This translates into 95,000 new jobs per month, down from…
To continue reading, subscribe for free.
---
Or login below.