Do Trade Deficits Matter?
May 12, 2006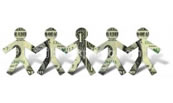 Does the Trade Deficit Matter?
Do Imbalances Matter?
All Assets Are Not the Same
When the Music Stops
The Surprising Rise of US Savings
La Jolla, Mavericks, and Mother's Day
This week we look at the links between the US trade deficit, the low savings rate in the US, home prices, and interest rates, all in an effort to answer the question: "Do trade deficits matter?" I think I will offer a few practical, if simple, insights to the matter.
At the end of last year, I did a series of e-letters on the debate over dinner in London between Bill Bonner and Charles and Louis-Vincent Gave. Both had just published a book. Bill's book, Empire of Debt (which is still doing well) states that the US trade deficit, coupled with massive government and consumer debt, is going to drive the dollar to its knees and end up with the US in a soft depression. You can chalk it safely in the doom and gloom column.
Then Charles and Louis-Vincent Gave, along with colleague Anatole Kaletsky answered in their book, Our Brave New World , that trade deficits do not in fact matter at all. It is different this time. They make a persuasive argument that the US trade deficit can last forever and that the deficit is in fact a sign of US strength, not weakness.
To the surprise to none of my long-term readers, I found…
To continue reading, subscribe for free.
---
Or login below.