Forecast 2008: Recession and Recovery
January 4, 2008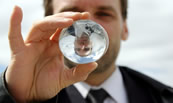 Forecast 2008: Recession and Recovery
18,000 Jobs? Not Really.
Housing: Going Down, Down, Down
Who's Got My Credit Default Swap Back?
Counterparty Risk is the Real Sleeper Issue
The Fed: Too Little, Too Late
Europe, Santa Barbara, China, and The Motley Fool
It's that time of year, when I throw caution to the wind and present my annual forecast issue. Jumping to the conclusion, I think a recession has begun, so the relevant question is to ask when the recovery will begin. We will look at the housing market, the continued implosion of the credit markets, and the deteriorating employment picture. Will the Fed worry more about employment and recession or about the very real inflation pressures? Oil? Gold? Which way the dollar? I am going to make some unusual calls, as well as highlight what I think will be the next looming problem in the growing credit crisis. We'll try to cover it all in just a few pages.
But first, one quick commercial note. I am looking to establish a relationship with a few venture capitalists, and/or broker-dealers who specialize in private equity placements. If such a relationship might interest you, please feel free to contact me. And now, let's jump into the letter.
As is usual for the forecast issue, we begin by looking at how I did last year. All in all, not bad. I correctly predicted the housing and subprime crisis, noted that there was a potential for the credit crisis to spread (which it did), and suggested that we would end the year in recession. As I will make the case later in the letter, I think we did just that in December. I got the direction of the dollar right, as well as energy, but I was wrong (as usual) about the stock markets. I thought a recession would lead to a lower stock market for 2007. It now looks like that lower stock market will show up in 2008.
And Dow-Jones columnist Jakab Spencer graciously included me in his list of analysts who got their predictions right. "Author and newsletter writer John Mauldin was particularly prescient in pointing out in plain language to his million plus readers the potential for the early rumblings in the subprime-mortgage market to upset the much larger market for securitized assets of all stripes. Before most retail investors knew what the initials 'CDO' stood for, he spelled out the…
To continue reading, subscribe for free.
---
Or login below.