Forecast: The Next Ten Years
April 16, 2005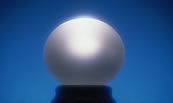 European Uncertainty
Sinking Globalization
Smoot-Hawley is Alive in the Senate
Stratfor Decade Forecast
The China Meltdown Syndrome
The Russian Orthodox Church Leads the Way
The Collapse of the European Political Union
La Jolla and Houston
This week we look at how politics and geopolitical events can affect our investments. We look at a decade-long forecast from one of my favorite information services: Stratfor.com. I change my view on the euro, talk about a possible Chinese recession and look at uncomfortable analogies between 1900 and today. There's a lot of ground to cover so we will jump right in.
I have had the relative value of currencies on my mind every day for the past two weeks. I have been in London, where the pound sterling is at a staggeringly high level, almost two dollars to the pound. Prices in London have always been high, even when the dollar was at its peak. Now they border on the absurd, at least to someone used to the economical confines of Texas. Admittedly I was in a high rent district (Mayfair), but a simple round-trip subway ride was $8. From my viewpoint, it seemed that the price of everything was almost double and sometimes triple what it is for me locally in Texas. There are no cheap drunks in London. Expensive drunks, maybe, but no cheap ones (and no decent steaks).
London is a very civilized place, and quite fun to visit. I enjoyed meeting with clients and business associates, but it was hard to get used to the prices. And the sad thing is that it is likely to get worse over time before it gets better.
While I was there, I watched the polls from France. Last fall, it looks like 70% of the French voters would approve the new to…
To continue reading, subscribe for free.
---
Or login below.