Free Trade Wars
February 27, 2004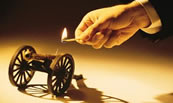 Where Have All the Jobs Gone?
More Dead Economists
Repeat: The Fed is Not Going to Raise Rates
Trade Wars and Other Disaster Scenarios
Gold, the Stock Markets and the Dollar
More Airports and Bull's Eye Investing
Free trade, jobs, fairness and the economy are all front and center in the coming political debate. As politicians respond to polls, we are going to hear a lot more about them in the coming months. Most of what you hear will be VPG - Verbalized Political Garbage. It will demonstrate that most politicians know very little about basic economics, or else do understand and simply wish to pander to voters in order to get elected.
Today we will wade into the core of this debate, hoping to give you an understanding of what is really at stake. Polls tell me that 75% of you will not like what I write. But since this is a free letter it will not affect my renewal rates. Likewise I am not running for office and do not have to couch my terms in evasive language designed to obscure what I really mean. If we have enough time and space, I am sure I can find something to annoy the remaining 25%. So let's get started.
Let's begin with a poll by the University of Maryland's Program on International Policy Attitudes: "...the polls shows that among Americans making more than $100,000 a year, support for actively promoting more free trade collapsed from 57% to less than half that, 28%, in just the last 5 years." In general, the lower the income, the less excited about free trade a portion of the population is. The percentage of people wanting to actively…
To continue reading, subscribe for free.
---
Or login below.