Gold, Housing and the Yield Curve
February 16, 2007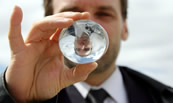 An Impressive Bull Run in Gold
What the Yield Curve Tells Us
GDP is AWOL
That "Shocking" Housing Data
A Family Road Trip
I have often written about the high probability of a recession following an inverted yield curve (where short-term rates are higher than long-term rates), based upon research which suggests the yield curve is our most reliable indicator of future recessions. I am often asked whether a yield curve causes a recession. The (very) short answer is no. But then what is the mechanism that makes it so reliable? Is it different this time? How can we believe that the economy has a few bumps in its future when things are just so darn good? We ponder these questions in today's letter, as well as peruse the "shocking" housing data released this morning, and look at a very interesting chart on gold.
But first, let me call to your attention the official announcement of my 4th annual Strategic Investment Conference, co-sponsored by my friends at Altegris Investments. The conference will be April 19-21 in La Jolla, California. The line-up of speakers is quite impressive. Richard Russell, of course, will be there. It is one of his few live speaking engagements of the year, as he does not travel to speak. So we bring the mountain to Mohammed, so to speak. Dennis Gartman will regale us with his stories and wisdom. Dr. Woody Brock, one of the world's better economists and frequent speaker at Davos will be there. George Friedman of Stratfor (what a treat!) will give us his views on how the world will develop politically over the coming years, and hopefully give us a preview of his forthcoming book. Louis-Vincent Gave will kick things off. Rob Arnott will follow. And Dr. Mike Roizen (YOU: The Owner's Manual ) will give us the latest on how to stay healthy, live longer, and enjoy our lives. And your humble analyst, of course.
In designing a conference, I put together a group of speakers that I want to hear and learn from. Many conferences have one or two headliners and then fill in the rest of the time. This conference has nothing but headliners. Every speech is a keynote. And there are plenty of chances to meet the speakers personally.
If you are looking for one place to come and learn about what the economic climate may be for the next few years, and for ways to both protect and take advantage of an ever-changing world, then you should consider this conference. No booths, no vendors, just investors like you and experts.
But it is more than just a theoretical event - investors will also have the chance to learn about the…
To continue reading, subscribe for free.
---
Or login below.