Hope Is Not a Strategy
August 31, 2007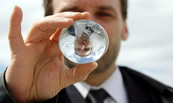 Past is Not Prologue, and Hope Is Not a Strategy
Eliminating Negative Alpha
Our Biggest Bet is Equities - Does Cap Weighting Weigh Us Down??
Practicing What We Preach
Update - Fundamental Index(tm) Today
New Orleans, London and South Africa
Investors are constantly seeking "alpha," that elusive substance which yields returns in excess of a simple market portfolio. While I am flying today to Prague, this week good friend Rob Arnott teams up with associate John West to show that it is just as important to eliminate negative alpha. In fact, you could find an extra 2-4% in your returns just by doing so!
Rob starts with showing us what type of returns one can expect over the next ten years from the typical US market fund, and then shows how to remove some of the drags of negative alpha which hurt those returns. This is a very important piece and one I think you will want to read more than once.
Rob is the founder and head of Research Affiliates. He has published scores of articles in various financial journals, won four Graham and Dodd Scrolls for his writing, travels and is the keynote speaker at too many conferences to mention and is recognized as one of the top financial minds in the world. He wrote a chapter in my book, Just One Thing .
He is also the creator of the Fundamental Index (patent pending) which is exploding onto the market. When I first wrote about it three (maybe four? Time flies.) years ago, I said that fundamental indexes would be the fastest new investing concept to grow from zero to $100 billion in history. Today there is almost $20 billion invested in various kinds of fundamental indexes all over the world, and the number is growing rapidly,…
To continue reading, subscribe for free.
---
Or login below.