How to Recognize a Housing Bubble
July 9, 2004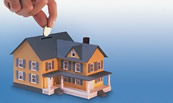 How to Recognize a Housing Bubble
The Sub-Prime Mortgage Markets
And the Envelope, Please
The Twin Hinges of Housing Prices
Old Friends, Wedding Bells and San Francisco
Today we take a final look at the housing market. Are we in a bubble or is it merely a period of overheated prices which will cool off? Is it the right time to buy (or sell) a home? If there is a bubble, how would we spot it?
A little full disclosure. Thinking about the housing markets for the past few weeks has been somewhat more than an academic exercise. I sold my last home a little more than four years ago, for family reasons unrelated to valuations or markets (time to downsize). I decided to lease for a time. My thought was to wait until a recession created a drop in values in the type of homes I wanted, and accompanied with low rates, would buy that perfect home. We would get the deal of the century. I persuaded my wife to go along with such an idea.
Because homes values have not really risen in my area (Fort Worth, Texas), I have lost no gain on a home. Renting, even after tax, has been relatively cheap. But now my wife is getting a desire to nest. She wants to turn her creative powers to work on her own home.
"How long," she wonders, "are we going to have to wait? So what if we can get a 15% better…
To continue reading, subscribe for free.
---
Or login below.