Insiders Send a Signal
January 28, 2005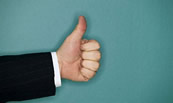 Insiders Send a Signal
Wedding of the Waters
China and the Erie Canal
The Vital Few or the Trivial Many
It's Starting to Look Ugly
Toronto, New York, CNBC and Rodeo
Is the US stock market rolling over? What are insider investors telling us? Are there sectors that might run counter to the overall trend? We look at a variety of topics this week, I point some of my hedge fund and institutional managers to an excellent source for information on insider investing and point the rests of my readers to a new book which shows you how to separate the "Vital Few from the Trivial Many." All in all, it should be an informative letter.
But before we delve into the arcane matters of the market, I want to direct your attention to a hot-off-the-press new book by Peter Bernstein entitled "Wedding of the Waters." Peter is the author of the best-selling (and one of my all time favorite books) "Against the Gods: the Amazing Story of Risk" and the fascinating and well-told tale of "The Power of Gold: History of an Obsession." Whenever Peter writes anything, it will be worth your time. His economic advice and research is some of the most keen and insightful anywhere, as attested by his numerous awards and well-deserved honors. But his knowledge of history and the ability to tell a story puts him into league of his own among financial writers. (He and Richard Russell are my heroes. Both are in their early 80's and doing their best work. I hope to be going as strong as they do in 25 years.)
"Wedding of the Waters" is sub-titled: "The Erie Canal and the Making of a Great Nation." It details the building of the Erie Canal in the early 19th century which connected the Great Lakes (Lake Erie) and Buffalo to Albany and the Hudson River, which led to New York and the rest of the world.
This opened up the Mid-West to cheap and easy transport of their products and allowed people to…
To continue reading, subscribe for free.
---
Or login below.