It's All About Your Time Frame
November 24, 2006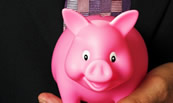 It's All About Your Time Frame
It's Different This Time
Debt Is Leaving the US
New York, The World, and a Really Bad Movie
It's a slow Thanksgiving Friday, and I decided I would rather be writing to you than shopping in the malls. In fact, I would pay good money not to go to the malls today. Which my kids think I am because they pointed out on Thanksgiving the amazing values I am missing, particularly on items they think should be on my Christmas shopping list. And I agree, I am surprised by the level of discounting, and believe those prices will be there in a few weeks when I actually get around to shopping. (Parenthetically, if holiday sales are strong but prices are lower [and they do seem to be!], what will that do to profits?) So, rather than participate in a shopping frenzy, let's ponder on the value of all those dollars my fellow citizens are spending today.
At the New Orleans investment conference last week, there were several constant themes. Gold, of course, would continue its rise. And the dollar would fall. The only variants on the latter theme were, by how much and when and against what. And as if on cue, the dollar made a 19-month low today as gold started to once again attempt to assault its recent highs. Today we look at the dollar from a longer-term perspective, see how this relates to global liquidity, and let you in on a running debate I am having with a few colleagues.
But first, a quick note from my partners in London. They (Absolute Return Partners) are looking for a hedge fund research analyst. If you are interested, you can either drop me your resume and I will forward it, or you can reach Nick Rees at www.arpllp.com.
It's All About Your Time Frame
In February of 2002, I turned bearish on the dollar and bullish on gold, for a variety of reasons. Up until that time gold had been in a 20-year slump, and the dollar was quite strong, especially against the euro. Back then it was well below $.90, and today it hit $1.31. From its all-time low of $.82, the euro has risen by over 50%. If…
To continue reading, subscribe for free.
---
Or login below.