Mid-Year Forecast - More See-Saw Fed
July 15, 2005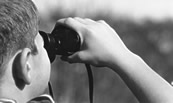 Mid-Year Forecast
The See-Saw Fed
Treading Water
Whither the Stock and Bond Markets?
Bull Hunter, Yankees, Bulgaria and Points Beyond
Where will Treasury rates go? What about inflation/deflation? The dollar? The stock markets? Gold? We cover all this and more in this week's letter.
I normally do an annual forecast at the beginning of each year. In conversations with a number of clients and readers, I've come to realize it might be helpful to do a midyear forecast as well.
In January, I suggested that 2005 would be the year of the See-Saw Economy. So far, with one major exception, my forecast is in the middle of the fairway. I wrote:
"We are all familiar with the see-saw. Who among us did not play upon one as a kid? See-saws work as long as both partners work together. Indeed, with the proper cooperation, they are quite fun. However, there are more than few of you who let your partner get to the top of his ride and then jump off, allowing him to drop to the ground. I, of course, never did that to my…
To continue reading, subscribe for free.
---
Or login below.