Our Brave New World, Part Two
November 25, 2005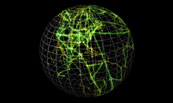 Our Brave New World, Part Two
Simon Says Sell Copper
Monetary Policy Turned on Its Head
The Final Heresy and the End of the Welfare State
Home, New Books and the Good Life
Is it different this time? Can it be that trade deficits do not matter? Or is our collective debt going to end in a period of financial crisis and tears? Is Alan Greenspan right when he says periods of low risk premiums end in woe for the participants?
For readers in the middle of this conversation, we are in a series on the debate held at a London restaurant between Charles and Louis-Vincent Gave (father and son) and Bill Bonner. The Gaves openly declared that "This time it's different," much to Bill's amusement. We all know that it almost never, ever is. They make their argument in a book called "Our Brave New World." I did part one of a review two weeks ago and will finish reviewing that book today.
Bill Bonner argues the opposite. He suggests that not only are things not different, that the massive accumulation of debt and fiat currency will end in a financial crisis and a soft depression. He advances his argument in his new book (along with co-author Addison Wiggin) called Empire of Debt. I will begin reviewing his arguments next week.
Then I will share my view on the topic. It will surprise no…
To continue reading, subscribe for free.
---
Or login below.