Print or Perish
November 19, 2011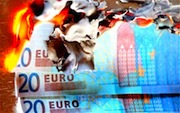 Europe is again at center stage. At conferences and meetings and in private conversations, it is the topic of the hour. I have thought a lot this week about Europe and its impact, so once again we delve into what is an evolving situation. This time, we look at possible impacts on the markets, as we ponder the questions, "Are we back to 2008?" and "Is there a Lehman in our future?" and I try once again to keep from making this a book-length letter. And I close with some brief thoughts I brought back from DC on the Super Committee and the deficit cuts.
But first, and quickly, I want to say that I am very pleased that Amazon has made Endgame one of their Best Books of the Year for 2011 AND their editors' pick of "Gift Ideas for a Geeks," although I am not sure how they define geek (I never thought of myself as smart enough to be a geek). The book has had very good sales of late, which is probably due to the fact that it is out in front explaining the crisis that is being caused by the end of the debt supercycle. Plus, good reviews and favorable mentions from congressional leaders (like Paul Ryan in the New York Times a few weeks ago) have helped.
It makes a good gift for Christmas or for clients! You can get it from Amazon at http://www.amazon.com/Endgame. Now, let's jump right in to Europe and its own particular Endgame.
Last week I attempted to give a short summary of the problems that face Europe. I called it "Where is the ECB Printing Press," though I could have titled it "Print or Perish." If you missed it, you can read it at http://www.johnmauldin.com/frontlinethoughts/where-is-the-ecb-printing-press. (For foreign readers, "publish or perish" is a mantra of the US university system, where if you do not publish in certain journals, you do…
To continue reading, subscribe for free.
---
Or login below.