Recession Watch
July 23, 2004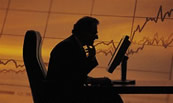 Recession Watch
Faith versus History
A Few Thoughts on Economic Growth
What Causes a Recession?
The Delusional Nature of Pink
Vacation, London, Bermuda, San Francisco
There are always a few dark clouds that determined bears can find, even in the best of times, albeit they may be no bigger than a man's hand. Most of the time, they dissipate into the wind, leaving nothing but ulcers for the worry warts in their place. It's just no fun listening to Jeremiahs in the summer (or at any other time, for that matter).
But sometimes, these clouds grow, and like Elijah running to Jezreel for cover, investors might be wise to do the same. This week we survey the economic horizon to see if there are signs of a recessionary cloud coming this way, and if so, what should we do? We look at what the color pink says about the markets and muse upon the nature of recessions.
It should all make for interesting reading. But first (you knew it was coming) I want to thank The CEO Refresher, a website that is geared to helping business leaders and professionals find the information they need to improve their lives and businesses. They recently named Bull's Eye Investing as the best book of 2004 and added it to their list of "Best Business Books of All Time." I also note that the…
To continue reading, subscribe for free.
---
Or login below.