Sometimes They Do Ring A Bell
November 12, 2004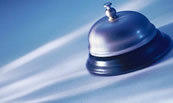 Sometimes They Do Ring A Bell
It's Official: The Bubble is Back
What Are Those Analysts Smoking?
How Bear Markets Begin
Past Perception Dictates Future Performance
With many sub-market indexes hitting new highs, and given the recent performance of the market, how can I maintain we are still in a long-term secular bear market? Shouldn't we get back in, as so many advise? That is a reasonable question, and the subject of today's letter.
We will start with a few quotes, and then move on to my commentary. A. M. Clifford writes:
"We are witnessing today a most extraordinary financial phenomenon, in the form of a Stock Market which has advanced with a rapidity and to an extent unparalleled in modern financial history.
"Have basic conditions so changed that old standard of value are no longer applicable and must be either drastically revised or completely discarded? Are Economic Laws which we had come to regard as inviolable, no longer of value? Are the United States - now a wealthy capitalistic nation - entering upon an era of such industrial prosperity, that Corporate Earning Capacities will mount in the geometric progression and within a reasonable time support the…
To continue reading, subscribe for free.
---
Or login below.