Stagflation and the Fed
February 29, 2008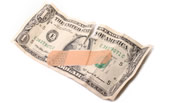 How Do You Spell Stagflation?
Memo from the Fed: Inflation? What Inflation?
The Fed Will Cut and Cut Again
Damn the Inflation Torpedoes! Full Speed Ahead!
Apple, Sprint, AT&T, and Going to the Dark Side
This week's topic was inspired by a discussion I had with George Friedman of Stratfor fame last night. He was suggesting the recession would be short and steep, and I of course think it is going to be shallow and with a long, protracted, and slow Muddle Through recovery. And it all hinges on how the Fed thinks about inflation.
There is considerable angst in the press about inflation and recession conspiring to bring us to a repeat of the 1970s woes of stagflation. And the economic data can certainly be interpreted as warranting such concern. This week we look at several different definitions of inflation. How can the Fed (in the form of both Fed chairman Bernanke and governor Kohn giving quite dovish presentations) dismiss inflation? Aren't they supposed to make sure that prices are stable? Just look at their European counterparts who talk tough on inflation and then "walk their talk."
There are those who suggest the Fed should do the same. There is no easy answer, but I will try to lay out the conflicting concerns and explain why the Fed is going to cut and cut again, as I have been writing for months. Let's put on our thinking caps, gentle reader, as we delve into some arcane but very important lessons.
But first, and for the last time at the beginning of my letter, I want to remind you there is only a week left to register for my 5th annual Strategic Investment Conference, to be held in La Jolla April 10-12 (co-hosted by my partners at Altegris Investments). Speakers include Paul McCulley of Pimco, Don Coxe of BMO (two of my favorite economists anywhere, and simply brilliant speakers), Rob Arnott, data maven Greg Weldon, George…
To continue reading, subscribe for free.
---
Or login below.