The ARMS Trade
June 25, 2004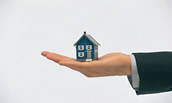 The ARM's Are Coming
Housing's Virtuous Cycle
The Cost of Renting versus Owning
The Consumer Values His Housing
Are HEL's Ringing a Bell?
Fabian, Bull's Eye Investing, Quebec and more
This week we continue our look into the factors involved in housing prices. Specifically, we are going to look at the affect of Adjustable Rate Mortgages (ARMs) on values. Do they pose a risk for the economy at large as rates rise? Some see them as a major crisis in the making, while others see no harm. Plus, we look at just how important housing is to the US economy. It should make for interesting reading.
But before we begin, let me briefly answer a few questions I have been getting of late, as we have a large number of new readers. Basically, the questions run: Why do you write this letter? Why is it free? How do you get access to so much information and what do you really do for a living?
Each week, I read between 150-200 (at a minimum) articles, newsletters, reports, books, essays and so forth. I get a lot of free material as well as some very expensive sources. Readers send me a mountain of material as well. (Some of the best work is sent to me from readers all over the world.) I have an associate who scours several services to find important material, as well as clip articles from various…
To continue reading, subscribe for free.
---
Or login below.