The Bond Uncertainty Principle
February 13, 2004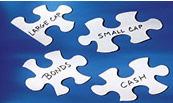 Gentlemen, Start Your Assumptions
The Over-Supply Meets Falling Demand Curve
The Bond Uncertainty Principle
The Possibilities for Bonds
Valentine's at Home
One of today's trickiest investment questions revolves around interest rates and bond investing. We are in an economic environment in history like no other, so we have few direct parallels from which to draw wisdom. Should we keep our bond investments short-term and suffer pathetic yields, or move out the interest rate curve, getting more income but subjecting ourselves to the possible ravages of inflation should it rear its ugly head? Yet, even as there may be no direct historic repetitions, there are perhaps some rhymes which can yield some insight.
Today we look at some very interesting charts and tables on bond yields from good friend Ed Easterling of Crestmont Research. Ed may be a familiar name to long time readers, as we have visited his research on past occasions. His latest work is on the historic yield of bond ladders, which may sound dull. But if you are concerned with maximizing your bond portfolio income, it can be very interesting. (You can see…
To continue reading, subscribe for free.
---
Or login below.