The China Productivity Miracle
July 16, 2004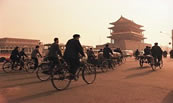 The Chinese Productivity Miracle
NY Times: Serious Summer Reading
Outside the Box
Is China Slowing Down?
Global Productivity and Prices
Global Liquidity Falls
Employment Numbers and Uphill Battles
San Diego, Surf and the Zoo
This week we look at China with a few thoughts that are not part of the conventional wisdom, and throw in a comment or two on global money growth, employment problems in the third quarter, and a comment on the presidential race.
Last Sunday morning,I was sitting in my living room talking with the host of a radio show called the Smart Investor in Phoenix, and he asked if I had seen the Sunday New York Times, as they had recommended Bull's Eye Investing as "serious summer reading." After lunch, I went to the local Barnes and Noble, bought a NY Times and sure enough, there in the Business Section, was a picture of my book and a very kind review.
NY Times: Serious Summer Reading
All in all, they recommended five books, four for beach time entertainment, and Bull's Eye Investing, "...our nod toward the fact that some people like to better themselves during the summer."
Mark Lemmons writes on Amazon: "Rarely does a book on the topic of investing and the economy qualify as "can't put it down" material, but this one does - I finished it in a…
To continue reading, subscribe for free.
---
Or login below.