The Dollar as the Old Maid
February 25, 2005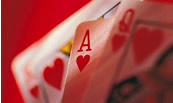 The Dollar as the Old Maid
Bretton Woods 2, Redux
The Heavy Lifting of Global Rebalancing
European Sado-Monetarism
Tampa, a Hedge Fund Idea and Golf
This week we continue to look at the imbalance in global trade and the US trade deficit. What are the ramifications for the dollar? I am going to weave together several different lines of thoughts from analysts all over the world and see if we can see a pattern emerge. While I give a brief synopsis of last week's letter below, for those interested you can read the full letter at http://www.2000wave.com.
As I wrote last week, the first Bretton Woods system came about when representatives of most of the world's leading nations met at Bretton Woods, New Hampshire, in 1944 to create a new international monetary system.
Bretton Woods 2, Redux
Under the Bretton Woods system, central banks of countries other than the US were given the task of maintaining fixed exchange rates between their currencies and the dollar. They did this by intervening in foreign exchange markets. If a country's currency was too high relative to the dollar, its central bank would sell its currency in exchange for dollars, driving down the value of its currency. Conversely, if…
To continue reading, subscribe for free.
---
Or login below.