The End of Medicine
July 7, 2006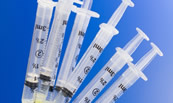 The End of Medicine
The End of The Fed Raising? Not
Blood On a Chip
The Boomers Break the Deal
La Jolla, and Home for the Summer
This week we look at a very intriguing new book by good friend Andy Kessler called The End of Medicine , subtitled "How Silicon Valley (and Naked Mice) Will Reboot Your Doctor." As long-time readers know, Andy ran a high-tech hedge fund which went from $100 million to a $1 billion and got out more or less at the top with his client's money (and his) intact. Since then he has written a series of very fun books on the inside world of investing, all of which are on my recommended list.
But with The End of Medicine he turns his eye to trying to find the next new thing which will drive the markets, or at least a segment of them, to new highs. This is a very well-written story in Andy's sarcastic, witty, and easy-to-read style, but the message is also one of how fast the world of medicine is going to change in the next ten years. The changes are happening in labs and fabs all over the world, but under the radar screen of almost everyone. This is a story that we can analyze from two angles. First, there is the investment aspect to it. There is going to be a 1990s tech-size run in our future. Finding the right ways to play it will be as difficult and interesting, not to mention rewarding, as the last big tech run.
Secondly, this is going to dramatically change the way we approach our personal health care. In many ways, this is going to be a more profound, intensely personal change in lifestyle than anything the tech world has given us. Before we explore some of the implications, let's look at exactly what Andy has found. (You can get The End of Medicine at www.amazon.com.)
The End of The Fed Raising? Not.
But first, a few quick comments on the markets. After the large ADP payroll estimate of job growth (385,000) the expectations for today's employment number was a disappointing 122,000, which sent the stock market into a funk. The bond markets rallied as we saw lower yields almost across the board, as a weaker economy will mean lower long-term rates.
But 122,000 is still…
To continue reading, subscribe for free.
---
Or login below.