The Fed Targets Your Home
August 26, 2005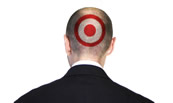 The Problem With Forecasting
Nothing Down, Interest Only
Greenspan Gives a Very Clear Warning
The Fed Is Targeting the Price of Your House
New Orleans and Birthdays
What is the relationship between housing prices and stock market forecasting? What will happen if the housing market begins to falter? Exactly what did Greenspan say about housing at Jackson Hole? We explore these topics and a whole lot more and hopefully we can tie them all together by the end of this letter as we meditate on the potential risk of the recent housing boom.
Let's start with forecasting. Every few weeks I get a wonderful letter from good friend James Montier, who is the global equity strategist of Dresdner Kleinwort Wasserstein. James is an expert on behavioral psychology and investing. This week's letter is lamenting the rather poor track record of forecasting by economists and analysts.
The Problem With Forecasting
Let me give you a summary of the paper and a few of his graphs.
"Both an enormous amount of evidence and anecdotal experience suggests that people are very bad at forecasting. This is often because we all tend to be massively overconfident. This begs two questions, firstly why do we persist in forecasting despite the appalling track record? And, more importantly, why do investors put…
To continue reading, subscribe for free.
---
Or login below.