The Frog in the Frying Pan
June 11, 2010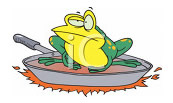 The Frog in the Frying Pan
Three Structural Changes
The Economy Won't Produce Enough Jobs
The End Game
Like an Army But with No Discipline
Tonight I am in Venice, but I have arranged for a special edition of Thoughts from the Frontline, written by Jonathan Tepper of Variant Perception, a research firm in London. I have been corresponding with Jonathan for some time, and we have had some solid, and lately quite frequent, conversations. I am very impressed with this young man, whose perceptions and insights I find quite thoughtful. We are working hard together to finish a book that will be called The End Game, which we hope to have out this fall. It deals with the end of the debt supercycle in the developed world and the consequences for economies around the globe. Depending on where you live, the investment implications can be very different. The book will be very global in scope, and our intention is to make it so simple even a politician can understand. In countries all over the world, difficult choices lie ahead. We hope to give people a framework for making those choices and understanding the consequences. Our situation is not pretty, but ignoring those choices would be the worst choice of all.
But first, and quickly, a number of people have written to see if I can get the publishers of Breakthrough Technology Alert to extend their offer of the current price before they double it. They have agreed to do so through next Wednesday. As I have said, this is one of my favourite sources for information on biotech stocks, and I have been very pleased with Patrick Cox's analysis and suggestions. You can read his latest piece, which I used as an Outside the Box a few weeks ago, by clicking here. And now let's turn the letter over to Jonathan.
"My best guess is that we'll have a continued recovery, but it won't feel terrific. Even though technically we'll be in recovery and the economy will be growing, unemployment will still be high for a while and that means that a lot of people will be under financial stress,"
Benjamin Bernanke, Chairman of the Federal Reserve in a Q&A at the Woodrow Wilson International Center for Scholars
After the dot com bust, John Mauldin wrote frequently about "the Muddle Through Economy," where the economy would indeed be growing, but that growth would be below the long-term trend. The Muddle Through Economy would be more susceptible to recession. It would be an economy that would move forward burdened with the heavy baggage of old problems while facing the strong headwinds of new challenges. Mauldin's description of the world was accurate then, and it is even more accurate now.
The current recovery from the Great Recession has surprised to the upside, given the extremely negative estimates that analysts had last year, when almost everyone was predicting the Apocalypse. Since then GDP has been robust, industrial production has shot up, retail sales have bounced back, and the stock market has rebounded strongly. However, compared to previous recoveries, growth does not look that great and people don't "feel" the recovery. This is unlikely to change.
The Muddle Through Economy is the product of several major structural breaks in the economy, which have important implications for growth, jobs, and the timing of a future recession.
The Frog in the Frying Pan
Three Structural Changes
Investors are good at absorbing short-term information, but they are much less successful at absorbing bigger structural trends and understanding when secular breaks have occurred. Perhaps investors are like the proverbial frogs in the frying pan, who do not notice the slow, incremental changes occurring around them.
There are three large structural changes that have been slowly but steadily happening. Going forward, the US economy…
To continue reading, subscribe for free.
---
Or login below.