The Muddle Through Question
April 18, 2008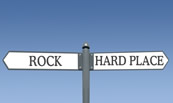 The Muddle Through Question
Clowns to the Left of Me, Jokers to the Right of Me,
Here I am Stuck in the Muddle Through Middle With You!
A Soft Depression? Not.
South Africa and Swiss Mountains
A few weeks ago I asked for readers to send me questions and said I would try and answer them while I was in Switzerland. Some of them were quite good and have given me ideas for whole newsletters but will require a lot of research. But a lot of them fell into two basic camps. This week we look at a number of questions from readers about my thoughts on the Muddle Through Economy.
One group basically asked, "John, given all the bad news [insert your favorite bearish statistic on housing, the credit crisis, inflation, doom and gloom, etc.] how can you be so optimistic and think we will only see a modest recession and a Muddle Through Recovery? Don't you think we will actually have a serious recession and/or a soft depression?"
The second group asks the obverse of the coin: "John, how can you see a long, slow recovery? Look at all the good things like [insert your favorite bullish statistic: low interest rates, a rising stock market, the worst of the credit crisis behind us, the stimulus checks just now getting to consumers, etc.]. Don't you think that means we will get back to a full growth economy by the end of the year?"
I have given both questions some thought as to which I should answer first. I think it makes more sense to start with the bullish question first and then go into why things are not as bad as many analysts suggest.
Clowns to the Left of Me, Jokers to the Right of Me,
Here I am Stuck in the Muddle Through Middle With You!
I take some comfort in being in the middle. It…
To continue reading, subscribe for free.
---
Or login below.