The Next Bush Recession
November 6, 2004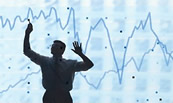 The Next Bush Recession?
An Open Letter to Karl Rove
There's a Storm Cloud On the Horizon
The Mid-Term Recession
The 2008 Election - It's the Economy, Stupid
Really Thinking About the Future
This week we enter the realm controversial. The election is over, and now reality will impinge its often unpleasant odor over the political landscape of the hopes and dreams of all sides of the debates. I explore the world of Republican political reality and how it will be affected by the economy over the next four years. We look at Bush's national agenda and muse upon whether it can come to pass. This will, of course, be guaranteed to annoy most of my readers, as those who oppose Bush will not like my suggestions and those who align themselves with him will not enjoy my raining upon their parade before they have had a reasonable time to bask in the glow of victory, or reminding them of real potential problems in 2008.
A quick caveat. I will style this as an open letter to Karl Rove. Although not active in the last few years due to time constraints, I was quite active in Texas politics in the 80's and 90's, working on numerous committees and campaigns, finally serving on the Texas State Republican Committee where I served on a small committee that represented the party to the governor's office when Bush was governor of Texas. You cannot run in such circles in Texas without bumping into Karl Rove from time to time, and we bumped often. I like the man, as do most people who have met him. He is currently the finest political mind in the country - a verifiable second coming of Lee Atwater, the architect of Reagan's victories and the Republican Renaissance of the 80's. I have not always liked how he runs a race (especially if I had a "horse" he was not backing), but I always admired his skills. His horses tended to win.
Now, however, there will be no re-election campaign to run. Now it is about legacy and the future of our country. Next week we return to our usual non-partisan commentary, but this week, I think it will serve our purpose to think about how politics will affect our economy and our future. With that, let's begin.
There's a Storm Cloud On the Horizon
Dear Karl,
A simple "congratulations"…
To continue reading, subscribe for free.
---
Or login below.