The Problem with Pensions
August 6, 2010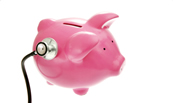 August Surprise from Obama?
The Problem with Pensions
Whither China?
Sadly, I find myself with more than enough time to compose yet another Thoughts from the Frontline in an airport, as a flight booking error has me at JFK for six hours instead of fishing in Maine. Details for those interested or amused at the end. But it does allow me to offer you a peek into a very sobering report on how badly underfunded public pension are. The situation is worse than you think. Then we will close with a eye-opening report on China from the gracious Simon Hunt, who is allowing me to reprint his latest missive in toto. You really want to read this one. And we start with this rumor from Reuters, just in. Read this and weep. It comes from James Pethokoukis.
Political Risk: An August Surprise from Obama?
"Main Street may be about to get its own gigantic bailout. Rumors are running wild from Washington to Wall Street that the Obama administration is about to order government-controlled lenders Fannie Mae and Freddie Mac to forgive a portion of the mortgage debt of millions of Americans who owe more than what their homes are worth. An estimated 15 million U.S. mortgages - one in five - are…
To continue reading, subscribe for free.
---
Or login below.