The Problem with Stable Prices
May 26, 2006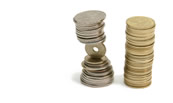 The Problem with Stable Prices
Targeting Inflation May Be Bad for Your Economic Health
The Status Quo Argument
The Muddle Through Economy, Part VII
New York, Whistler, and Las Vegas
Can you have too much of a good thing? And specifically, can targeting low inflation and stable prices create problems that are even larger than the ones a stable price policy is trying to avoid? Today we look at a very interesting set of ideas proposed by one William R. White of the Monetary and Economic Department of the Bank of International Settlements (BIS). The BIS can be understood to be a kind of a central banker's central bank. So when they talk about appropriate central bank policy, those of us much lower on the food chain should pay attention.
Let's look at one paragraph in particular, which I am sure will show up in bearish commentary all over the world:
"Should any or all of these series revert to their historical means, the sustainability of future global growth would also be open to question, perhaps leading to a deflationary rather than an inflationary outturn. To combine the two possibilities, the worst case scenario would be inflationary pressures, leading to a sharp tightening of policy, which in turn could precipitate a process of mean reversion in a number of markets simultaneously."
We will look at what he means later in the letter. This article was brought to my attention as a must read in an email by Paul McCulley. When Paul says something is a must read, it goes to the top of the stack. And after reviewing the work at length, I agree. Let me warn you, it is in small print and full of economic jargon; but White highlights a problem that we…
To continue reading, subscribe for free.
---
Or login below.