The Problem with the Euro
May 30, 2008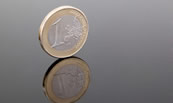 The Problem with the Euro
Swapping out Commodities
The Euro at Par with the Dollar
Laguna Beach, Montreal and Las Vegas
Last week I wrote that we could see a drop in the price of oil as speculators seemed to be storing oil in very large tankers and "slow steaming" them to port in a bet that prices would rise. When everyone is on the same side of the trade, the time is right for a reversal. This is especially true when there is a large potential supply sitting on the sidelines.
This week we briefly look at this prediction, and perhaps even more ominous problems for commodities in general, at least in the short run. The new turn our attention to the euro. It will make for an interesting letter.
First off, oil dropped about 4% yesterday and is down almost $10 from its high only a week ago. Yet supplies of crude oil surprisingly dropped by 8.8 million barrels yesterday. Oil shot up on the news as both those who were short covered their bets and even more people piled into the long side of the trade.
But then the EIA report gave the rest of the story. It seems the shortfall "was due to temporary delays in crude oil tanker off-loadings on the Gulf Coast." And as Dennis Gartman noted this morning, "officials at the Louisiana Offshore Oil Port (LOOP) said
that some crude oil tankers cancelled scheduled deliveries last week." The owners of the oil in those tankers are now down about 6-7%, whether it is speculators in the pits…
To continue reading, subscribe for free.
---
Or login below.