The Return of Stagflation
July 28, 2006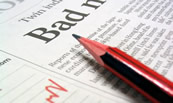 The Return of Stagflation
The Housing Market Leads the Way
That '70s Show
Where's My WIN Button?
Fishing, Rangers, and Betting on the Economy
The GDP data released Friday suggests the economy seems to be slowing. So naturally the stock market surges forward in a very strong move, convinced the bull market is back. After all, how can the Fed raise rates in a slowing economy? And if the Fed is not raising rates, then it follows, does it not, that the stock market will rise? Or so the logic of a 119-point rise, tantalizingly close to a new high for the Dow, seems to suggest. A review of the data says that may not be case, however. This week we take a look at the economy, housing, and inflation, with a view to pondering whether stagflation will return in earnest. It should make for an interesting letter.
But first, Andy Kessler's new book The End of Medicine that I wrote about three weeks ago seems to have struck a nerve, with both doctors and entrepreneurs. Feedback from readers is running quite positive, but with some very decisive disagreements from doctors denying that changes in medicine are needed or will happen, countered by enthusiastic entrepreneurs who are working on DNA detection chips, on blood tests to detect the likelihood of a stroke in the next year, and on imaging techniques to find all sorts of disease early. Andy tells me his feedback from the book is running hot, with some name calling from doctors but lots of business plans for early detection and even a few for next-generation eye surgery and stomach stapling. It's great to see that medicine is not a static business. No matter what the business model, there will always be entrepreneurs who seek out change, and we'll all be better off for it. I love to get your responses, by the way.
I highly recommend you read The End of Medicine . It is an easy plane-trip or afternoon read, but it will make you think and laugh while you do so. Andy is a great writer. If you did not read my review of the book you can do so here. You can buy the book at www.amazon.com.
The Return of Stagflation
The consensus from economists was that GDP…
To continue reading, subscribe for free.
---
Or login below.