The Rewards of Lazy Investing
August 27, 2004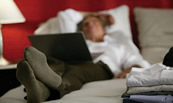 The Lazy Investor's Reward
Four More Years
Raven the Chimpanzee and Other Smart Investors
First Derivative Investing
London, Paris, Bermuda, San Fran, Tahoe, Toronto
Is being lazy the secret key to riches? Can you grow your portfolio 2,000 percent with just one decisions? Did I spend 432 pages and 200 footnotes [in Bull's Eye Investing] trying to give readers the tools they need to be thoughtful, successful investors when just one page with no troublesome research would open up to them the secret of the ages? With all my study, how could I miss such wisdom?
Today we explore the problem with "single derivative" thinking. It is in my experience perhaps the single biggest mistake investors make. We enter full-tilt, no-holds-barred into the debate as to whether you should mindlessly buy and hold, or whether you should apply some more thoughtful criteria to your investments and retirement portfolios. This is one of the most critical issues with which investors have to deal. Along the way I will explode a few well-worn Wall Street myths, tell you when it will be safe to get back into the water of the S&P 500 (yes, that day will come) and give you some of the more interesting set of statistics I have come across in four years.
Four More Years
And yes, it has been four years this month since I started sending Thoughts from the Frontline to a few thousand email addresses I had acquired from readers and clients along the way, and posting it for free. The archives are at www.frontlinethoughts.com, and you can read every call and prediction, good and bad. I have been rather fortunate on my calls these last four years and hope…
To continue reading, subscribe for free.
---
Or login below.