The Rise of A New Asset Class
August 1, 2008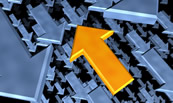 This week I am in Maine on vacation with my son, and next week is my daughter Tiffani's wedding, so for the next two weeks I am going to send an updated version of a speech I have been giving the past few months on what I think is the likely potential for the rise of a brand new asset class. It is too long to be sent as one letter, so we will start with the first part today and finish with the second part next week. This first part can be read as a standalone letter.
I think we're at a watershed moment, what Peter Bernstein defines as an "epochal event," with the very order of the investment world changing as it did in 1929, in '50, in 1981, where a number of things came together - it wasn't just one thing but a number of events happening that conspired to change the nature of what worked in the investment world for the next period of time. It took most people a decade after 1981-2 to recognize that we were in a different period, because we make our future expectations out of past experience. It's very hard for us to recognize a watershed moment in the process. We're going to look back in five or ten years and go, "Wow, things changed." As we will see, it's going to be a change that's going to cost people in their portfolios and in their retirement habits.
We're going to look at a number of different concepts and separate ideas that in and of themselves don't make that much difference. But I think their confluence in the present moment is going to change things.
Now, some of this is new, some of it is old. The old stuff we're going to fly through. Most of you have been reading me for a while now, and you've got the concepts down. So let's start.
The Rise of A New Asset Class
The first thing to note is that we're in a Muddle Through Economy. We're in a recession that's fueled by the bursting of two bubbles: the housing bubble and the credit crisis. The real question is: when do we come out of the recession? At what time do we come back to trend growth, which is 3 to 3.5 percent a year?
I believe that over the next…
To continue reading, subscribe for free.
---
Or login below.