The Statistical Recovery
July 24, 2009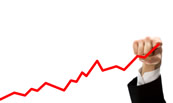 The Return of Muddle Through*
Can China Lead the Global Recovery?
The Statistical Recovery
The Last Bear Standing
New York, Maine and Tulsa
A lot of bullish commentators are talking about a recovery being in the works, and they may very well be right. But it is not going to look like any recovery worthy of the name. This week we look at what I will call The Statistical Recovery. But first we take a look at what China is doing, as we continue our look at the rest of the world and ponder whether it is time to brace ourselves for an extended bout with the Muddle Through Economy*. (And yes, there is an asterisk.)
Quickly, and importantly, tonight we are releasing the first in a new series of quarterly Conversations entitled Geopolitical Conversations with John Mauldin and George Friedman . We believe that these new Conversations will help you better understand not only the global political landscape but also how it affects the financial umbrella that we are under. In this first Conversation, we talk about the "exogenous" risks to the markets (those from outside the markets themselves) posed by the geopolitical world.
George and I are going to make it a regular quarterly gig. We will offer this service, which will be priced separately, at some point in the near future. Now, here is the important part: all current subscribers and anyone who subscribes now will receive these Geopolitical Conversations free, as a thank you. (Current members can log in now.) If you have not yet subscribed, you can do so and receive a discount, by clicking the link and typing in the code JM49 to subscribe for $149. This is a large discount from our regular price of $199; plus, we are including the bonus Geopolitical Conversations that are worth $59.
Further, we will post a separate interview next week that I have obtained permission to use from my friends at Casey Research, and which I personally found very valuable. When we launched Conversations, we promised eight interviews a year. We are now at six, and next week I will record the seventh with housing experts John Burns of John Burns Real Estate Consulting and Rick Sharga of Realty Trac, the two leading experts on housing…
To continue reading, subscribe for free.
---
Or login below.