The Trend May Not Be Your Friend
April 17, 2009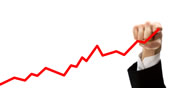 Thoughts on the Continuing Crisis
Dressing Like an Economist
The Trend Is Your Friend Until the End of the Trend
What Is Money?
MV=PQ
Newport Beach, Orlando, and Home
Two weeks ago I presented my thoughts on the current economic situation at my 6th Annual Strategic Investment Conference in La Jolla (co-hosted with Altegris Investments). The speech was well-received, at least to judge from the comment forms. So this week and next, we are going to revisit that talk (with a few edits). Let's start with a little set-up to explain the first few paragraphs.
My speech was Saturday morning. On Friday, I wore a nice grey suit with a Leonardo tie. For those who know about Leonardo's, they are "statement" ties. I should note that Tiffani picked the tie out for me about ten years ago and persuaded me to wear it. It took some getting used to. It is 16 silk-screened colors, bright blues and pinks and grays, the central feature of which is a very vivid parrot. It is not subdued.
When my good friend George Friedman of Stratfor gave his speech on Friday, he commented rather derisively about my taste in ties, which got him a few laughs. This did not bother me too much since, while George is a brilliant geopolitical analyst, his sense of sartorial style is not exactly top-drawer. So now, let's jump into the speech.
Dressing Like an Economist
Three years ago I was here at our third conference, and my daughter Tiffani came to me in the middle of the conference and said with a very serious face, "Dad, we've got to have a talk." Oops, we have to have a talk? This was her "You've done something wrong" face. But I didn't know what I had done. Had I been speaking with my zipper down? Was something I…
To continue reading, subscribe for free.
---
Or login below.