The Unwinding of the Carry Trade
June 4, 2004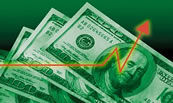 The Unwinding of the Carry Trade
Inflation: The Fed Gets What It Wants
The Employment Numbers: A Good Story
# 14 on Business Week
Vancouver, New York, Orange County, Vacation
Will rising rates cause the hedge fund world to blow up and bring down the economies of the world? What about the huge recent rise in the money supply? Are the large employment numbers for real? Is inflation coming back? Will the economy continue to grow? All good questions upon which we will muse.
(Yes, I know I was supposed to write about the housing bubble, but my associates keep bringing in important new research which must be read. Unfortunately, they are all quite long and written by PhD economists, which is to say, dense and complex. I will get to it, I promise.)
The Unwinding of the Carry Trade
First, a few thoughts about the risk to world markets caused by highly leveraged hedge funds as interest rates rise. Hedge funds have been some of the prime beneficiaries and users of the carry trade (borrowing at ultra low short terms rates and investing in longer term instruments with higher rates to make the difference in the coupons). Knowing that the Fed was committed to keeping…
To continue reading, subscribe for free.
---
Or login below.