There Will Be Contagion
March 10, 2012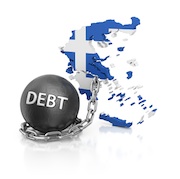 … (December 11, 2009) – Greece's prime minister, George Papandreou, told reporters in Brussels on Friday that European Central Bank President Jean-Claude Trichet and Luxembourg Prime Minister Jean-Claude Juncker see "no possibility" of a Greek default, Bloomberg News reported. Papandreou also said that there was no possibility of Greece leaving the euro area, according to the report.
… (January 29, 2010) – There is no bailout and no "plan B" for the Greek economy because there is no risk it will default on its debt, the European monetary affairs commissioner, Joaquin Almunia, insisted on Friday.
… (September 16, 2010) – "Restructuring is not going to happen. There are much broader implications for the eurozone should Greece have to restructure its debt. People fail to see the costs to both Greece and…
To continue reading, subscribe for free.
---
Or login below.