Things That Go Bump in the Night
December 14, 2007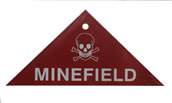 Things That Go Bump in the Night
Foolish Investor of the Year?Really?
Breaking the Buck at Bank of America
Inflation Rears it Ugly Head
Academics at the Fed
1% Growth plus 4.3% Inflation = Stagflation
London, Switzerland, and Barcelona
From ghoulies and ghosties
And long-leggedy beasties
And things that go bump in the night,
Good Lord, deliver us!
-Traditional Scottish Prayer
It's been a long time since we have looked in my worry closet, but there are definitely bumping sounds coming from behind the door. While largely over-looked, Bank of America closed down an "enhanced cash" fund and did the unthinkable and broke the buck. But the real story is even worse. I make the suggestion that you look at your cash funds and see what is in its portfolio. You may want to redeem ahead of the crowd.
The Fed comes in for some very deserved criticism for its ham-handed handling of the rate cut. Inflation? As I predicted last summer, we are now seeing inflation over 4%. And the Producer Price Index is even worse. An increasing number of mainstream economists are suggesting that we will soon be in a recession, and some make my thoughts that it will be a mild one seem, well, rather Pollyannish. There is a lot to…
To continue reading, subscribe for free.
---
Or login below.