This Time It's Different
November 11, 2005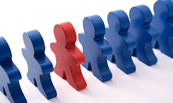 This Time It's Different
Our Brave New World
Drinking the Kool-Aid
The Dollar Asset Standard
New York and London
"For over ten years now, a wide majority of market strategists and economists from respected investment banks (Morgan Stanley, Dresdner...), a large number of upscale financial publications (The Economist, The Financial Times... ), highly respected consulting firms (Lombard Street Research, Grant's Interest Rate Observer, Gloom Boom Doom... ) have drawn on historical parallels to warn us that the expansion of the past decade in US consumption was both unsustainable and likely to end in tears. Real estate all over the Christian civilized world was bound to collapse, along with global equity markets. The world would then enter into an 'ice age'. So far, despite the strength of the above thought process, and the numerous historical parallels, the dreaded meltdown has completely failed to materialize. So what is the next step?"
-GaveKal Research, from the introduction to "Our Brave New World."
A few weeks ago I mentioned a small dinner party in London hosted by Charles and Louis-Vincent Gave, the Gave's of GaveKal Research. They are quite bullish about the longer term prospects for the world, and as we will see below, argue that something new is happening that may not rhyme with our past economic history. Long time readers know I like History. It is an old friend. It is a very uncomfortable proposition…
To continue reading, subscribe for free.
---
Or login below.