Thoughts on Pensions and Retirement
November 4, 2005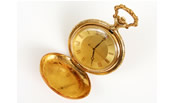 Just One Thing
Can I Ask a Personal Favor?
Corporate Pensions Down $450 Billion and Counting
What Will the Stock Market Return over 10 Years?
What Happens If we Live An Extra Ten Years?
Europe, Canada, New York, London and Amazon
How bad is the pension fund issue. Is it a crisis as the Pension Benefit Guaranty Corporation (PBGC) claims? Or is the American Benefits Council right when they say the problems are blown out of proportion? And depending on your assumptions, they could both be right. Examining this debate will provide a useful springboard as we examine retirement issues you may be facing.
But first, last week I promised a special announcement. Ready to ship and in a bookstore near you is my new book called Just One Thing. Some of you may have received an email yesterday about the book, and a lot of you ordered, because it is now #4 on Amazon in less than 24 hours! Permit me to make a few personal observations about the book and the publishing process.
With my last book, Bull's Eye Investing, I announced two years in advance I was writing it, and kept postponing the publication date. My "book-in-progress" I called it, but at times there seemed to be little progress, which did frustrate more than a few of my readers. This time around, we decided to wait until the books had been shipped to the bookstores to make the announcement.
Bull's Eye Investing did very…
To continue reading, subscribe for free.
---
Or login below.