Thoughts on the Continuing Crisis
March 21, 2008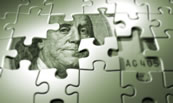 Thoughts on the Continuing Crisis
Margin Clerks of the World, Unite!
Where Do We Find New Sources of Credit?
In Defense of Alan Greenspan
What Now for Gold, Oil, Etc?
Baseball, Mexico, and Travel Costs
My essay in Outside the Box last Monday seemed to ignite a lot of response in the blogosphere. My basic contention was that the Fed had to act to facilitate the sale of Bear to prevent a meltdown in the markets. Many agreed, but others said Bear should have been left to hang, pointing out that a thorough cleansing is what is needed. Others scoffed at the notion that allowing Bear to fail would have created a massive stock market sell-off. This week we will reexamine that concept, look at the drop in gold and commodities, come to the defense of Alan Greenspan (which should be food for a little more controversy), and think through to the end game of the economic crisis.
But first, a little housekeeping. There is now a Spanish version of www.johnmauldin.com. For those who care, you can click on the tab in the upper right. We hope to soon be able to offer the letter in Spanish, in addition to the current translation in Chinese.
Secondly, as we announced a few weeks ago, I am now working with my friend Steve Blumenthal and his team at CMG to offer a variety of investment managers who can work with investors with less than the $1.5 million needed to be classified as an accredited investor. I am proud of the managers we have on the platform. To see the managers and their returns, and how they are doing lately in this turmoil, just click on the following link and fill out the simple form. The minimum account size is $100,000. http://cmgfunds.net/public/mauldin_questionnaire.asp
Some have written that they filled out the form and have not been called by CMG. There was a rather large initial response. I suggest that you call after you fill out the form. They will get to you eventually, but a call will speed up the process. And of course, if you are an accredited investor you can go to www.accreditedinvestor.ws as always, and my partners will be glad to show you the…
To continue reading, subscribe for free.
---
Or login below.